Divorce rumors may be surrounding Beyonce and Jay-Z, but that doesn't even seem like an issue when it comes to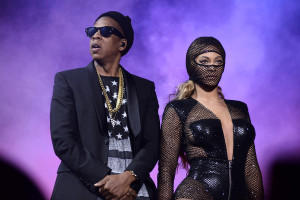 them putting on a spectacular show.
We called it here months ago that the king and queen would be going on tour together, but when they finally announced tour dates for [typography font="Cantarell" size="14″ size_format="px" color="#ff6666″]On The Run[/typography] , I could NOT contain my excitement. I've been looking forward to this concert for months and on Saturday night (the first night of their two night performance in Los Angeles), I got to see the royal couple in the flesh.
Goosebumps everywhere. Tears in my eyes. Wish I was kidding.
I had seen Jay last summer on his Legends of Summer Tour at the Rose Bowl and I knew he wouldn't disappoint. Beyonce, however, I had never seen live and I had mixed reviews about her performance in Toronto so I was kind of scared I would be disappointed. But disappointed I was not.
The show was in the theme of Bonnie and Clyde — film noir style. It was set up life a real life movie with videos opening up the show and as transitions. The king and queen showed up together and the rest of pretty much history. The concert was magical and there is no denying the presence that both Jay and Bey have. 
Together they performed hits like "Crazy in Love", "Upgrade You", "Holy Grail" and obviously, "On The Run." Contrary to popular belief, Solange was not the opener. There was no opener, no intermission, just Jay and Bey non-stop.Beyonce really impressed me — her dancing was better than ever and those vocals! Damn. I'm convinced that she also can walk on water. 
I really just have no words to even describe the experience. [highlight]It wasn't just a concert, it was a full on experience. [/highlight]The rain coming down on us half-way through was the cherry on top. The audience didn't have a care in the world except to enjoy the evening. The show went on for almost 3 hours! If that's not incredible, I don't know what is. 
I've gotta be honest, it's a bit clear that there is something going on between Jay-Z and Beyonce — but none of us will ever know the truth. And if the rumors are true, Jay is a moron for cheating on freaking Beyonce. Hello? No one will ever be half of Beyonce. And even B knows that. 
The only downside to On The Run was the venue. Why artists have their shows at the freaking Rose Bowl, I will never know. Parking was $40, getting to the venue is a bitch and a half, and exiting it is even worse. I will never see a show there again unless Jay and/or Bey decide to do another one. It's not even worth it. It takes over an hour just to park and then another hour just to leave. 
Overall, I had the time of my life. It was unreal. If you haven't seen them yet, I suggest you buy your tickets NOW!
xo [typography font="Cantarell" size="14″ size_format="px" color="#ff6666″]NM[/typography]