Project Taco opened its mid-Wilshire location today and [typography font="Cantarell" size="14″ size_format="px" color="#ff6666″]Give Me Mora[/typography]  was there to get all the scoop!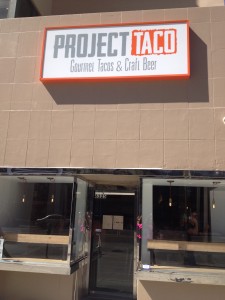 We headed over to the opening and were greeted by one of the partners, Andrew Sandler, who introduced us to some of the staff and recommended we try the Korean Pot Roast Taco.
What we ordered:
2 Chicken and Avocado Tacos
1 Korean Pot Roast Taco
1 Miracle Meatless Taco
The Miracle Meatless is made with gluten-free, soy-free, and dairy-free plant based protein! Project Taco is the only place in the United States to use the product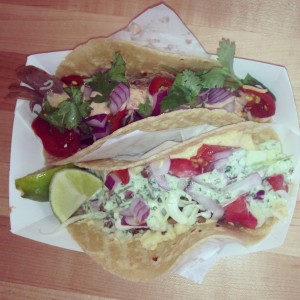 Beyond Meat in their restaurant. I have to say, it was full of flavor and the Miracle Meatless was my personal favorite out of everything we tried. I can't wait to go back and eat it again.
Starting on Wednesday, Project Taco will serve beer and wine to go along with their delicious food as well. Whether you're a vegan or enjoy meat, there's something for every kind of taste bud. It's our new must-try recommendation! [highlight]All of their food products are non-GMO, healthy, and cage-free.[/highlight] Good for the environment and good for your stomach!
For all of our [typography font="Cantarell" size="14″ size_format="px" color="#ff6666″]Bougie-On-A-Budget[/typography]  people:
Project Taco also has Taco Tuesday deals! 3 tacos for $9. Can't beat that.
Not only is the food amazing, but the staff as well as the partners are both welcoming and friendly. It's hard to find good service in LA, but that's one thing you don't have to worry about at Project Taco. This specific location was opened up by a bunch of young entrepreneurs (including Andrew), which is refreshing and inspiring to see. I definitely won't be surprised when I see them continue to open up more small businesses and hit many more major successes.
Thanks for having us, Project Taco! See you again soon!
Get social with Project Taco: