I love using Wednesdays as a way to highlight awesome women for #WomenCrushWednesday and today I get to do that with Bruna Nessif, the founder of one of my favorite blogs, The Problem With Dating. I first started reading Bruna's stuff thanks to an article she wrote appearing on Cosmopolitan Magazine's SnapChat channel. This girl puts all of her vulnerability down on paper and it's hard to not relate! So, duh, I reached out to her via social media and slid into her DMs. Now we are friends and she is sharing her story about quitting her job to pursue happiness. Oh, and she is an immigrant! Minor detail. Read her story below! PS – thank you Bruna, I loved this story so much. xo NM
I'll never forget the night my mom came home from a long shift at Tony Roma's. She went straight to her room and I followed to greet her, but when she turned around, I was met with her tears. My mom is a sensitive and emotional soul (I wonder where I get it from), but even then, I knew this was something more than just emotions running high. She didn't go into detail, but I knew it was probably because of another unfortunate encounter with some less-than-gracious customers. She looked at me with her puffy face and glossy eyes and said, "Bruna, stay in school. Go to college and get your degree, because I never want you to have to deal with shit like this."
Being a server was one of the many jobs my mom juggled when I was a teenager to make sure that the bills were paid, there was a roof over our head, and food on the table (usually off of the Tony Roma's menu). Neither one of my parents went to college. My dad was too busy fighting the war in Lebanon, and my mom was too busy raising me. Like many immigrants, my parents fled their home with me in tow and came to America for better opportunities, and while there were more avenues for them here, it was still quite difficult to assimilate and stay afloat without knowing the language or having a higher education.
They always managed to make it work, however, and if we were ever considered "poor," I'd never know, because they never let it show. I just knew I couldn't shop at the same stores as my friends. I wouldn't get new clothes often, and whatever money we did have was not to be spent on frivolous things. I knew that "a penny saved is a penny earned," and I knew that saving my money for the future would be the best thing I could do for myself. So, I made sure to do it right. I got great grades in school. I went to college. I graduated with a bachelor's degree in communications and left campus without any weighing student loans on my back, because I made sure to pay off my tuition while I was there. And right after graduation, I landed a full-time job in the career of my dreams with a salary that I didn't think I'd see at 23 years old.
I did it right. I played by the book. I did what was expected of me. So why wasn't I happy?
It's an interesting thing to work for so many years towards one goal, only to realize once you've achieve it that it was never your true destination, but a pit stop towards your actual purpose. I worked at the company of my dreams, writing content for millions of people and making a name for myself, and while it was exciting and thrilling and badass in the beginning, there came a point when I realized I was meant for something more. Of course, me being who I am, it wasn't a simple career switch. It was a lifestyle change, and it absolutely terrified me.
I wanted to be my own boss. I wanted to fully focus on my passion project The Problem With Dating, and see what I could do with it. I wanted to be completely self-sufficient, and while I knew I had the work ethic and ability to take on whatever I decided to do, I also knew that meant leaving the stability and security of a corporate job for the unknown. I wouldn't get a paycheck every two weeks. I wouldn't know if I'd be able to pay the bills. I'd be going against everything my parents instilled in me as a child, because they never wanted to see me struggle the way they did. And yet, here I was, throwing all of that stability out the window.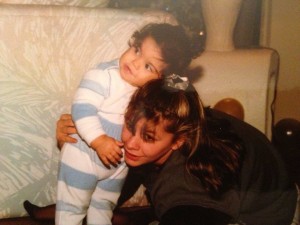 I was apprehensive about revealing my change of heart to my mom. Any time I voiced discontent with my job, she'd always tell me, "Well, Bruna, make sure you have something else lined up before you make any decision to leave." So how was she going to react to me telling her that not only am I going to quit, but I'm going to quit without having another "stable" job lined up? Being my biggest cheerleader throughout the various chapters of my life, it meant a lot to me that my mother supported my decision. Would it have stopped me from taking the plunge if she didn't? I don't know, and luckily, I didn't have to find out.
When I told her and my stepdad that I wanted to quit my career and freelance while focusing on my website, she stayed quiet. Quiet is always scary. Dave filled the silence with a bunch of reassurance (he has also become one of my biggest supporters), and at one point, mom piped in. "Are you going to ask me what I think?"
I responded, "I feel like I already know what you're going to say. You're not a fan, because you want me to have stability."
She turned and said, "No. Well, yes, I want you to have stability, but not at the cost of your happiness."
She continued, "Bruna, if you're not happy, quit. If you want to do this, I support you completely. I believe in you and I believe in what you're doing, and what's the worst that can happen? You'll always have a roof over your head."
Tears started to fill my eyes.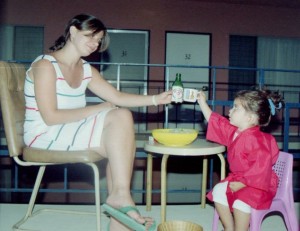 For someone like my mother, a woman who has faced challenges some of us could never even comprehend and who's always strived to give her only child a better life than the one she was dealt, to give me her blessing on taking a leap of faith and completely switching up the journey I was on for the unknown… Sigh. Words don't even begin to explain the love I felt in that moment.
I didn't need any more reassurance. I knew what I had to do, so when the time was right, I put in my two weeks, and I ventured off into this crazy, liberating, stressful but extremely gratifying life as an entrepreneur. And that's what it's all about, right? My parents didn't leave their families and everything they knew so that I would spend years on end sitting at a desk, watching the days waste away while I dream of chances I never took out of fear. They risked their lives to give me a life they were never able to have. The least I could do was take the risk to build that life for myself.
xx Bruna
Get social with Bruna: