I am so excited to introduce everyone to Brandon Holley AKA BVille AKA the creator of Branville Clothing!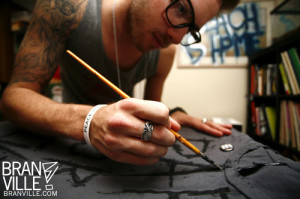 BVille is extremely talented and I can't wait for you all to get to know him a little better. Branville Clothing has innovative designs, is suitable for both men and women and is 100% original. Take a look at my Q&A with Brandon, check out his socials, and let us know what you think!
1. Hi! Thanks so much for teaming up with us, we think Branville Clothing is amazing! What inspired you to start it and when did you start selling items?
Thank you so much! I grew up in San Diego, CA playing in a few bands in high school and I always loved designing/ printing our merch on my own. I then bought a screen press and started a clothing line. I have a huge passion for art and constantly love designing.
2.

Where do you get your design ideas from?
Just living everyday life and the experiences I go through. A lot of our typography shirts are inside jokes that are always fun to make. I am always looking for a good time and I think that definitely shows through who we are and what we represent. Music also has a huge impact on where I get my ideas from.
Anyone that doesn't take life too seriously and sets off good vibes. I don't want to seclude ourselves to one style, therefore we are more of a lifestyle brand rather than just an action, sports or music brand. I feel we do a good job of hitting every market.
4.

How would you describe your own personal style?
I basically wear everything I design. I can't even tell you the last time I bought a shirt. Growing up on the beach has given me a comfortable and laid back style. I am into anything comfortable and you can rock for any occasion.
5. Besides Branville, what else do you do (job wise)? Or is there no time to do anything else?
I work with
Big Bad University
(
www.BigBad.com
) as a graphic design artist and work with all the merch we make. I am also a DJ/ producer and work with Shwayze. We tour quite a bit and luckily I have an awesome team to take care of things while I am gone.
6.

What's next for you and the company?
We are going to put out a Summer collection and do some events this summer. I miss setting up booths at all the festivals so that's definitely in the near future with us along with new gear.
7. Being an entrepreneur and starting your own business is rough! Any tips you can give

GMM

?
You honestly just have to love what you do. Don't start a clothing line because you want to be cool and make money. Passion brings originality and it will show through your line. I put everything into my line and am not some rich baller at all. It will take time to make money so just stay focused and confident in your products.
8. It's so hard having great style when you're on a budget…what can you recommend for our

Bougie-on-a-Budget

readers who are looking to look good without breaking the bank?
I know exactly what you are talking about. Designer clothes are so crazy priced these days and not everyone can afford them. I want to make our clothing affordable to as big of a market as possible with keeping them high quality. I am always searching for new materials not only more comfortable, but cost effective as well.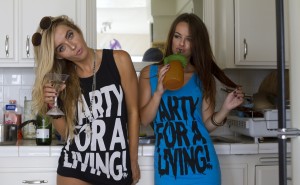 I still cannot take our "Party For A Living!" tank top off our store. Everyone loves it and it's still my favorite piece. We have it in so many colors now for everyone's specific taste.
10.

Where can we follow you on Twitter/Facebook/Instagram?
Twitter: @BranVille
Instagram: @BranVilleClothing
Be sure to check out BranvilleClothing.com and stay tuned for a very special Give Me Mora discount code! xo

NM