A great side, a flavoursome snack and a popular dish for a new or expert chef: [typography font="Cantarell" size="14″ size_format="px" color="#ff6666″]ratatouille[/typography] !
Full of wholesome veg, you can prepare this dish on the day or a day in advance, and know it will be a hit with all those sitting round your table.
Ratatouille can take approx. 10 mins to prepare and 45-50 mins to cook. What's great is that most of this does not require your full attention, so you can get on with the rest of your meal prep.
Let us know how you get on! xo Elyse
Ingredients: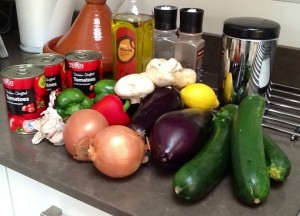 x 3 courgettes
x 2 aubergines
x 2 white onions
x 1 red pepper
x 2 green peppers
x 1 garlic clove
x 6 mushrooms
x 1 lemon
x 3 tins of Italian chopped tomatoes
Salt
Pepper
Olive oil
Sugar
Instructions:
Step 1:
Chop all vegetables up into small pieces
Step 2:
Heat some oil in a pot
Once it is hot add the onion and aubergine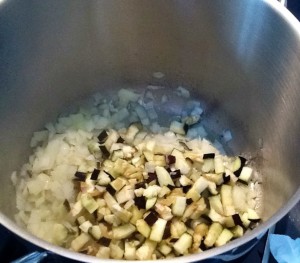 Step 3:
Once these start cooking add the rest of the vegetable
Leave all of this to cook until the veg softens (this can take approx. 6-8 mins.)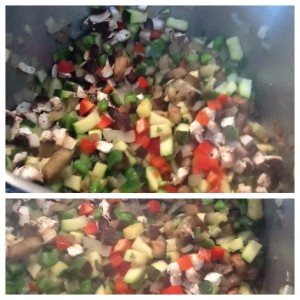 Step 4:
Once the veg is soft add the tinned tomatoes
As well as this, add the salt and pepper (3-4 grinds each), garlic, squeeze in half a lemon, and a sprinkle of sugar
If you want to add any herb at this point then 1-2 teaspoons will be enough – something like basil/oregano/ rosemary can work here.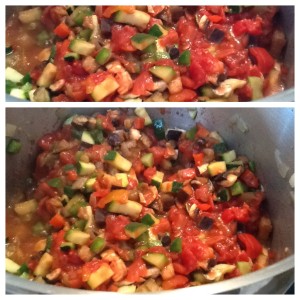 Step 5:
Let this simmer for a while so all the flavours combine
*Stir every so often to keep everything mixed together*
Keep it on a medium heat for approx. 45 minutes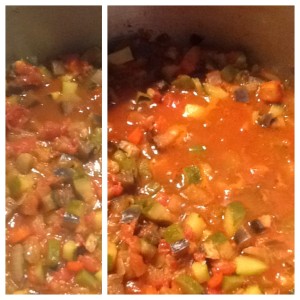 Step 6:
Leave to cool once cooked and ready
Serving suggestions:
– If you are serving up on the same day you can serve the ratatouille luke warm as it is.
– I recommend heating the ratatouille in the oven for 15-20 minutes before serving. This will give the vegetables a slightly roasted texture. Be sure to keep this covered with foil in the oven.
– You can also serve up cold, but this isn't to the taste of everyone!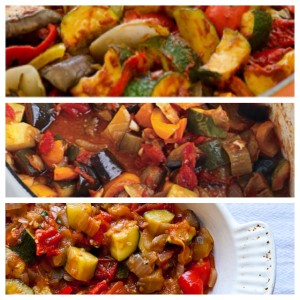 Enjoy!