If you read a few weeks ago, you know that I've been working to put on a great event with Kol Ahava.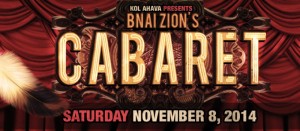 Last night over 700 attendees came to Bnai Zion's Cabaret to help us raise money for the Bnai Zion foundation to help build an underground hospital in battle stricken northern Israel. 
We had aerial dancers, DJ Child's Play, and a very sexy cabaret-themed set-up for our guests. The night was a success and we raised tens of thousands of dollars for the foundation! 
But now, I am in recovery. Like been in bed all day with a hangover status. 
So I'm sitting in bed watching "Clueless" with an iced coffee in hand wondering how I'm ever going to get up. All signs point to the evening being nothing less than a great success!
I am so proud of the work we do with Kol Ahava and cannot wait to see what we do next. For more information visit our website here.
Our girl, FashionLaine will be recapping the event for us so I will be sure to share it on here. You won't want to miss all the amazing pics and of course, fashion!
xo [typography font="Cantarell" size="15″ size_format="px" color="#ff6666″]NM[/typography]