Hope you're trying out some of my recipes. They're great for keeping healthy but still enjoying some tasty meals!
This recipe is for

Red Cabbage

. Now I know some of you will think 'cabbage' 'really?'…but not this dish!
Simple…follow the instructions below.
My red cabbage is full of flavour and is the perfect side dish when cooking a hot meal. Oh and it has WINE! Where my wino's at?
Enjoy, and let me know what you think once you've tried it.

EF xo
Ingredients:
x 1 cabbage (450g)
x 2 red apples
x 2 red onions
110g Margarine

300ml Vegetable Stock Powder

150ml Red Wine

Sea Salt

Black Pepper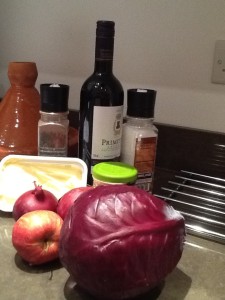 Instructions:
Step 1:
Cut cabbage, apples and onions
Add them to the saucepan
Step 2:
Add margarine, wine and vegetable stock powder to the saucepan
Grind salt and pepper into the mixture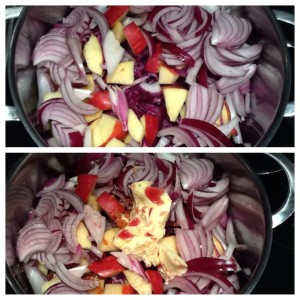 Step 3:
Bring to the boil and then lower the heat to simmer for 35mins (or until wine and stock have been absorbed)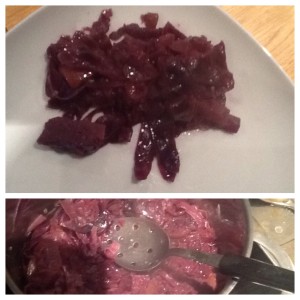 What's great about this dish is that it can be made 1 – 2 days in advance then reheated in the oven. So if you are entertaining and have a lot to prepare you can get this dish done early!
When re-heating you can do this in two ways:
1. In a pre-heated oven at 160-180 degrees for approx. 20 mins
2. Put it back in the pan and heat on a low temperature until it simmers
* I prefer in the oven as it means less washing up after and more space on the hob!