It's finally here! The trailer for ROADIES is officially out and Give Me Mora is giving you the first look!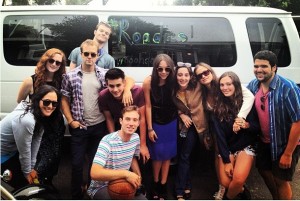 If you've been following me for more than 6 months, you know that we filmed ROADIES in just 10 days this past August. We began filming in Los Angeles and took a real road trip to Arizona, New Mexico & Texas. There might have been some bumps in the road (cue our van breaking down and us being stuck in Blythe, California for over 5 hours), but I am SO proud of the cast and crew. This is the first film I executive produced outside of USC, and it was definitely one of my biggest challenges.
Thank you to those who donated, supported us, and followed our journey. We could not have done it without you!
So, here it is! The trailer for ROADIES!
Written & Directed By: Lorin Doctor
Executive Producer: Nic Mora
Co-Producer: Katherine Choynowski, Le Crib Furniture
Director of Photography: Hunter Peterson
Cast:
Jennifer Blakeslee
Jack Quaid
Kristen Laffey
Lorin Doctor
Brittany Fields
Matthew Piazza
Julian Goza
Jesse Allis
Christine Spang
Chelsea Goss
Danton Goss
Nic Mora