This one is for all of the movie lovers! If you live in Los Angeles or are planning to visit through September, you are in luck. What has been made so popular in London is now coming to the city of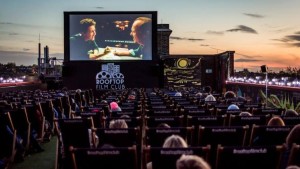 angels: Rooftop Film Club!
Okay, it's a littleee pricier than going to the actual movies, but it's worth trying something new. Spice up your date night by watching Casablanca or Top Gun or put together a girl's night out to watch Clueless or Breakfast At Tiffany's. There are so many great options.
Thanks to Time Out Los Angeles for sharing this news with us! For more info and to see what other films are playing, click here.
Let me know which one(s) you're planning on going to and you may just see me there 😉
xo [typography font="Cantarell" size="16″ size_format="px" color="#ff6666″]NM[/typography]