If the rumors are true, then I am one freaking happy girl!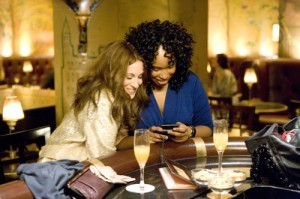 [typography font="Cantarell" size="15″ size_format="px" color="#ff6666″]Sex and the City 3 [/typography] is in the works!
Okay, okay, the second movie wasn't amazing, but I miss seeing the fab four on a screen. Sue me. 
What's even better is that my sources tell me Jennifer Hudson is in talks to star in SATC 3. Fuck yes, J Hud! I loved her in the movie and I'm curious to know how Louise from Saint Louis is doing now. Did her love life work out? Is she still renting bags? I mean, hello, these are questions that have been left unanswered!
Also, I want to see Carrie as a mother and Big as a father. How did their lives work out all these years later? I need to know these things!
Alright I'm clearly a little cray cray, but I can't help it. I grew up watching the TV show (sorry mom and dad?), and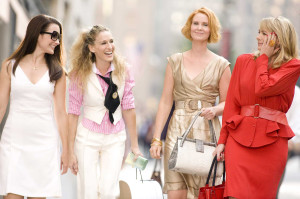 was at the theatre opening night for the first film. 
SATC was the first show on television to show not only successful women, but women in charge of their sexuality. Yes, before there was Lena Dunham's Girls, there was Sex and the City. And there is no denying that SATC was one of the shows to propel all women casts and the idea of women being sexual beings. Because really, women have needs too, right?
The cast has been hinting there will be another movie, but nothing confirmed yet. We've got some great sources giving us the gossip, so don't forget that you heard it here first! It's happening and J Hud will definitely be coming back for this one. Not to mention that she's hinted a comeback recently as well.
What do you think? Is putting out SATC 3 a good idea? Would you watch it?
And most of all, what do you think will happen this time around? Talk to me.
xo [typography font="Cantarell" size="15″ size_format="px" color="#ff6666″]NM[/typography]