I'm a 90's baby, and as a true 90's child, I grew up watching Boy Meets World.
Cory and Topanga were the modern day love story we all knew, loved and wanted to find. TV in the 90's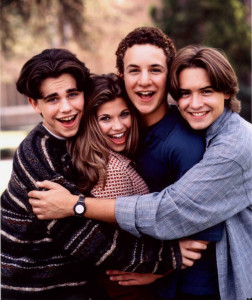 was wholesome, entertaining and way more pure than what you see today.
Look at me, I sound like an old woman reminiscing about the good ol' days. As if I'm 80. 
With reboots like 90210 and the failed Melrose Place, viewers were hopeful we'd get to see remakes or even reunions on our fave shows like Boy Meets World and Full House. Well, after much wishing, hoping, and praying, we finally heard some good news:
Boy Meets World was going to have a sequel! [typography font="Cantarell" size="14″ size_format="px" color="#ff6666″]Girl Meets World[/typography] , the spinoff off the show we all know and love, would surround Cory & Topanga's little girl, Riley Matthews. Fans everywhere rejoiced at the news, our Twitter/Facebook/Instagram's were full of praise and impatience to see the pilot.
Girl Meets World premiered last night on Disney Channel. Not knowing what to expect, I watched intently and tried figuring out how they would find a way to make this work. Perhaps what Disney did best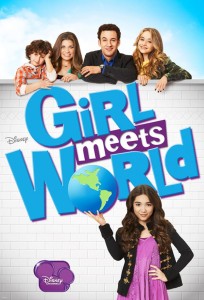 is bring back much of the original Boy Meets World writing staff. [highlight]The show is basically Boy Meets World but set in present day.[/highlight] I loved that they showed Cory passing down his world to his daughter, Riley. It was sweet and sentimental.
You'll see many similar characters on this show. There's a Stuart Minkus character type, Riley's best friend Maya resembles Shawn Hunter, and now Cory takes the place of Mr. Feeny as the school teacher. It's all very nostalgic and it's no surprise why that's all every site is talking about. It's like Cory & Topanga never left our screens.
Riley, played by Rowan Blanchard, resembles her dad on the show and Blanchard gives an okay performance. However, Sabrina Carpenter who plays Maya is phenomenal and will surely be a huge star in the coming years. I predict Blanchard will come into her own and hold the show, but for now Carpenter is the young show stealer.
Take a look and let us know what you think. You'll see a nice surprise by Feeny at the end!
I'm definitely tuning in again — sue me, I miss the 90's.
xo [typography font="Cantarell" size="14″ size_format="px" color="ff6666″]NM[/typography]