Remember little Sophia Grace who, with her cousin Rosie, got recognition on The Ellen Show?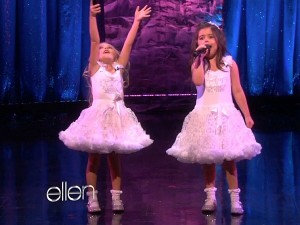 I've always thought Sophia Grace & Rosie were the cutest little girls (probably because I was just like Sophia Grace when I was younger) and looked forward to whatever cover they were going to do next. Plus, their tutus! Like do you die?
Well our little Sophia Grace has her first original single, "Girls Just Gotta Have Fun" and a video to go with it! Peep it here.
I think it's SO freaking cute and I love that Rosie is in it too! But I'm also a little worried about exposing her to this industry at such a young age. Whatever. She's my hero. Okay maybe not but I'm kind of obsessed with a 10-year old. Goodbye to me.
Post your thoughts! XO NM