Spinach Curry
Recently I've been trying a wider variety of flavours, including some spices!
I was recommended to attempt to make a spinach curry, and thought I'd share this with all you wonderful GMM followers.
You have to keep an eye on the curry whilst it is cooking, but this doesn't take too long, and the prep time is minimal.
Keep the spices to your own preferred taste and ensure to enjoy this dish with a tasty side! xo Elyse
Ingredients:
3/4 of a bag of spinach
4-5 small potatoes
x 1 white onion
x 1 red onion
x 4 grinds of salt
x 4 grinds of pepper
Cumin
Cinnamon
Mustard
x 1 fresh garlic clove
If you don't want to have this dry you will also need:
Tinned (canned) tomatoes
X 2 fresh tomatoes
Tomato purée
*I recommend this!*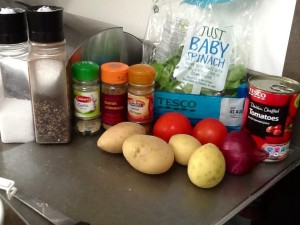 Step 1:
Fry onions (in a pot) with the salt, pepper, cumin, and any other spices you have chosen
* I haven't included amounts for the spices as this can be totally down to your preference of how much spice you like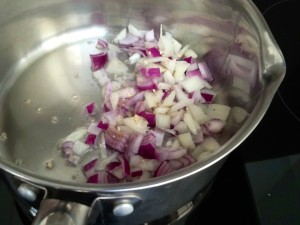 Step 2:
Once this is done add the potatoes to the pot and cook until soft
* cut the potatoes so they are small – this will ensure they cook quickly
Once potatoes are soft they are ready (test this by putting a knife through)
Tip: I have pre boiled the potatoes in the microwave for a few mins. to ensure they cook properly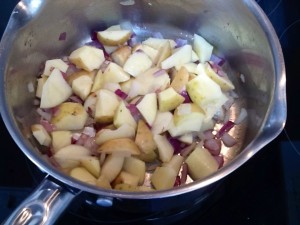 Step 4:
Mix the tinned tomatoes and fresh tomatoes in a separate pot
Bring it to the boil then take it off the heat
Step 5:
Add the spinach to the onion and potato mix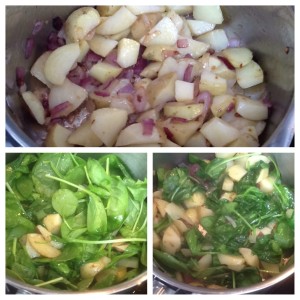 Step 6:
As the spinach cooks add the tomato mixture to the pot
Step 7:
* be sure not to leave it too long as it will start to become too watery – if it does then you can add a dash of tomato purée and more spinach for a bit of thickness if necessary
Step 7:
Once all is mixed well, and is thick, you are ready to serve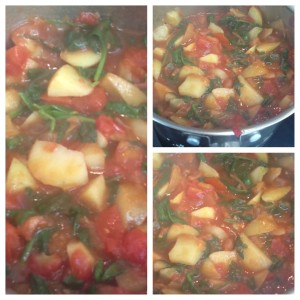 Serving suggestions:
– With rice or naan bread
– If you want a healthier option have it with some lettuce leaves/more spinach, or on a bed of quinoa (as you will see I have done below)
This dish will keep for a couple of days so if you make extra you can keep it! Sometimes it will be thicker the next day and the flavour will have had time to set, which can be better.