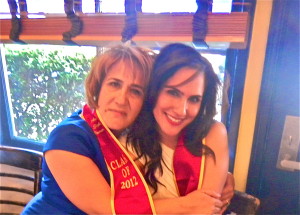 Stay At Home Mom VS Working Mom
I have so much to say about this I don't even know where to start. The first thing I'd like to say is, Matt Walsh, you need to open your eyes.
Listen, I'm definitely biased in this situation; I had a working mom growing up and now that I'm an adult, she still works. Whether she's had to work for financial reasons or not is beyond the point. She worked every single day of my childhood and for that I am forever grateful that I had someone to look up to, to model myself after, and that I had someone who showed me what it means to be a strong woman in today's society.
I have to applaud Mr. Walsh here for backing his wife and thinking she is amazing, because truth of the matter is, all mothers are amazing — working or not. HOWEVER, I think those women asking what "your wife does all day" is a valid statement and not so out of the ordinary as you and the readers of your blog claim. When your kids are napping, going to school, or out on playdates…what DOES your wife do? Clean the house? Well, sorry to sound like a spoiled bitch, but most people in LA have a cleaning service once or twice a week for that…so really what is there to do? I know PLENTY of stay at home moms in LA that do not lift a finger, "raise their kids" and still complain about not having time, weren't able to carpool, or take their kids around because they "didn't want to drive all the way there."
Well Mr. Walsh, what about the moms that have a full time job that still raise their kids, drive them to and from their extra curricular activities, and still manage to find a way to get dinner on the table. You see, this is where you have it wrong. Your stay at home wife's job may never end, but neither does the working mom's. Yes, her 9 to 5 ends, but she comes home and is still a mom. She still has to deal with her kids getting sick and healing them, she still has to go to the market for groceries and help her kids out with their homework. My mother too, "JUST brings forth life into this universe and she JUST shapes and molds those lives. She JUST manages, directs and maintains the workings of the household, while caring for children who JUST rely on her for everything." But here's the thing: she does ALL of that while maintaining a full time job. She always has.
There is something so magical and so special about the women who can maintain a job, raise a family and take charge of a household. My mom never missed a carpool, she never missed taking me to a doctor's appointment, and took me to every single practice, rehearsal, and game I ever had. So thank you mom, for teaching me that a woman can be a mother, have a career, and essentially, have it all. Because you do.
You can't blame me for callin' it like I see it…xo NM