Hi all!
As we all know -> Summertime = salad time.
A salad on a hot day is light, refreshing and nutritious. As you will see from this post, it was the perfect addition to my BBQ lunch in the sunshine!
Enjoy xo Elyse
Ingredients:
Fresh lettuce

Tinned artichoke hearts

Green beans

Small potatoes

Cucumber

Balsamic Vinegar Dressing

Asparagus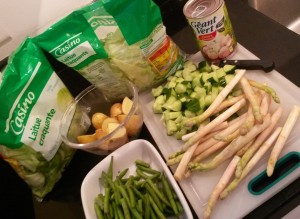 Step 1:
Chop the cucumber, cut the potatoes in half, and cut the asparagus
*a tip for the asparagus is to bend it and where it snaps is where you will break off the bit you don't want*
Step 2:
Cook the potatoes, beans, and asparagus
– I would suggest the potatoes to be cooked in the microwave for 6 mins. (Until soft), the beans and asparagus take approx. 3-5 mins each (depending on the amount cooked)
Step 3:
Whilst cooking (as above) – put the lettuce and cucumber into the salad bowl
Once ready, add the beans and potatoes
Mix this all together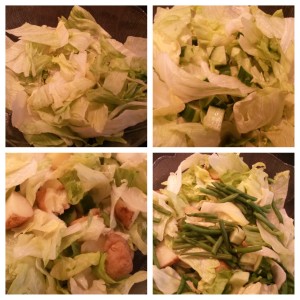 Step 4:
Drain the artichoke from the tin and add it to the salad
Step 5:
Pour the balsamic vinegar dressing over the salad, add a few grinds of salt and pepper, and then mix again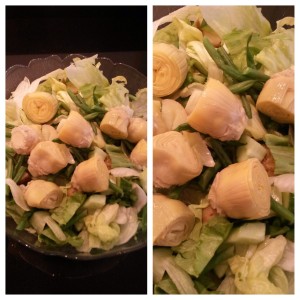 Step 6:
You can add the asparagus to the salad or serve up on the side
As you will see here, I have served it on the side as the salad was looking full already
Step 7:
Serve up!
I recommend this as a salad you can have on its own, or even as a side to your main meal. Oh and don't forget the wine – a nice drop of rosé is always key!