Okay lovebirds…Valentine's day is just around the corner. Making sushi for dinner and having a cozy night in is the absolute perfect way to spend it with your hunny! You can do this together or ahead of the evening for your valentine ❤
I find making sushi really therapeutic. You're so concentrated on the sushi making that you zone out of everything else. Trying out different ingredients allows you to become creative with your choices.
It's fun to make and when it's ready you feel like you've done a really good job!
Happy Valentines Day, EF xo
Ingredients:
500g Sushi Rice (thus will be enough for 10 pieces of seaweed)
x 1 pack Sushi Nori (10 pieces per pack)
110ml Rice Vinegar
700ml Water
Black & White Sesame Seeds
Bamboo Rolling Mat
* you will notice I have not included any specific sushi fillings. This is because you can pretty much go for anything…hence the creativity of making sushi!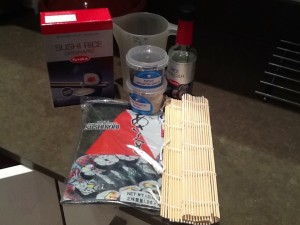 Some of my fave fillings include:
Avocado
Asparagus
Spicy Tuna
Teriyaki Chicken with Spring Onion
Salmon (raw or smoked)
Cucumber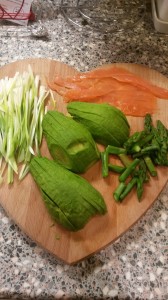 Instructions:
There are so many ways you can cook the rice. I have a quick way that means you won't need to spend all day in the kitchen…you should be prepared to spend about 3 hours in total on the whole sushi making process.
Rinse rice with cold water and drain
Step 2:
Put in pot with water and boil
Once it reaches boiling point simmer rice for 10-15 mins
– if it looks like the water has absorbed add more to it so it doesn't burn the base
Step 5:
Once this is done take the rice off the heat and cover it for 15 mins
Step 6:
Pour rice into wide dish and add the rice vinegar
As you add this mix the rice continuously until cool
* whilst preparing the rice you will have time to prepare your fillings
– be sure to slice thinly 
Your rice is now ready to use!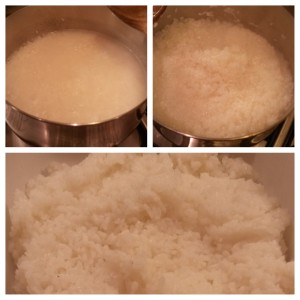 Step 1:
You can use half the seaweed for small rolls or a whole piece for larger rolls
Place the seaweed at the edge of the bamboo rolling mat
Step 2:
Wet the tips of your fingers and collect rice in your hand
Spread this over the piece of seaweed
 Note:
For normal rolls leave 1cm clear at the end away from you 
For inside out rolls cover the whole piece of seaweed with rice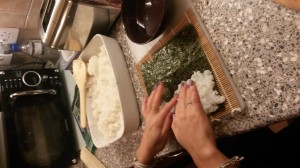 Step 3:
Lay your filling at the edge of the seaweed (this is the edge closest to you)
*Don't make this too thick or the roll won't close properly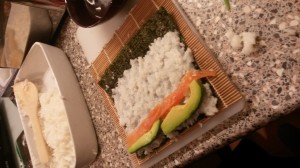 Step 4:
Pick up the bamboo roll and make your first fold
Before doing the next fold bring out the bamboo mat so it is not being rolled up with the sushi
My picture should show this clearly (and most instruction packs will guide you on this too)
With each individual fold you do ensure to tightly push the roll shape so the sushi is sealing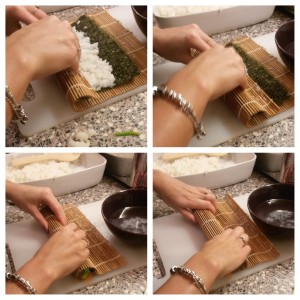 Step 5:
* for the inside out rolls once you have covered the seaweed with rice and the sesame seeds you need to turn it over so the rice is face down and seaweed is face up
Place the ingredients at the edge (as before) and roll as instructed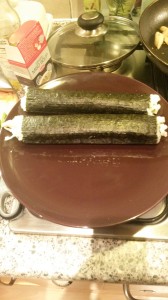 Ensure you have a sharp knife
As you cut the sushi you will need to keep the edge of the knife moist to help ease the cutting
I know it sounds quite confusing…it's hard writing it down!
BUT as you get going and into the flow of things you will find it pretty easy
Good luck and please share your pictures with us so we can see how you got on!