I'm all about Taco Tuesday! No like, if I could have tacos everyday I would. 
Here's an easy & flexible taco recipe for all my fellow Mexican food lovers out there! I used chicken, but you can use beef, fish, or tofu as well. You'll have to excuse me for the lack of pictures — I was too hungry to stop what I was doing! I don't have measurements either because it varies based on appetite and personal taste. 
Enjoy! xo NM
INGREDIENTS:
Protein of your choice. I marinaded the chicken with lemon, olive oil, salt & pepper but you can add taco seasoning as well if you wish (I don't because it's high in salt)

Tortillas or taco shells (I'm gluten-free so I used corn tortillas)

Cilantro

Avocado or guacamole

Beans (I used black but pinto is fine if you prefer)

Optional: Veggies or chips to use as your side dish
DIRECTIONS:
Step 1:
Cut up your protein into small pieces

Spray your pan with oil of your choice (I used coconut) and heat

Place the cut up chicken in the pan and heat on medium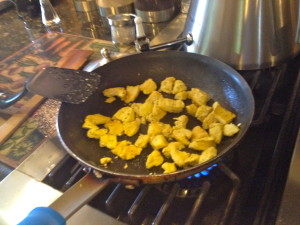 Step 2:
While your chicken is cooking, begin toasting your tortillas or taco shells

If you choose to have veggies as your side, go ahead and broil them in the oven on high

Mix the protein around to ensure all sides are being cooked
Step 3:
Remove the tortilla or taco shells from the toaster or oven once ready and place onto your plate

Add the cooked protein to the tortillas/taco shells
Step 4:
Warm up your beans if from a can (I used a stove but you can use a microwave)

Add the beans to your tacos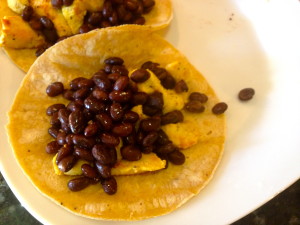 Step 5: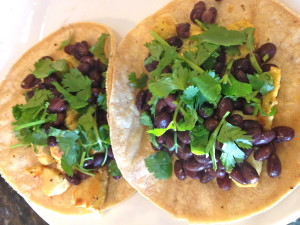 Step 6:
Step 7:
Remove your veggies from the oven and plate. Obviously if you're going with chips, then serve those up
Tada! Easy & yummy tacos!