I repeat, I am not a Taylor Swift fan.
That's why this post should actually mean something.
Taylor Swift and her team nailed it with her new album, 1989. They really fucking nailed it. I haven't seen genius like this in way too long.
First off, the album is amazing. Doing a full-on pop album was a solid move. Let's face it: Tay wasn't all that country to begin with. Pop music is where she belongs.
In a world where physical CDs no longer sell, Swift made for damn sure hers would. She incorporated personal photos and memorabilia — polaroids with song lyrics on them and supposedly some kind of scavenger hunt. Then she pulled her music off of Spotify to ensure people would buy her music instead of stream it on there. Not to mention she held private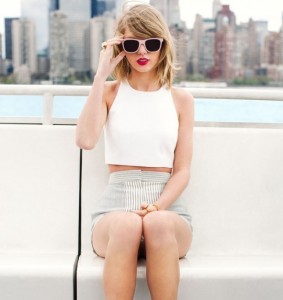 listening parties and admitted to stalking her fans, making her audience feel more connected to her than ever before. This is what we as fans all crave: the connection with our favorite celebrity.
She busts out 1989 and sells a whopping 1.2 million copies! Something that hasn't been done in music since 2002.
The best part is, her album is actually good! No, it's not good. It's amazing. 1989 brings forth feelings of nostalgia that I haven't felt in way too long. Her friendship with fellow singer Lorde has also paid off, because you can see little Lorde influences in there as well.
So here she goes and drops this awesome album, but it doesn't stop there. She releases the "Blank Space" music video that basically makes fun of her being the crazy ex-girlfriend we all think she is. A girl after my own heart: someone who can make fun of herself and find the funny. Who would have ever thought she would have been so cool to do that? Not me. That is for damn sure.
She is killing it. And so is her new style game PS.
Take a look at the video below:
I'm dying to know what you all think about this. Are you a fan? 'Cause now I think I might just be.
xo [typography font="Cantarell" size="15″ size_format="px" color="#ff6666″]NM[/typography]