I've been listening to Jason Mraz since I was a sophomore in high school — AKA for the last 8 years. The second I heard his song "Life Is Wonderful" I was addicted.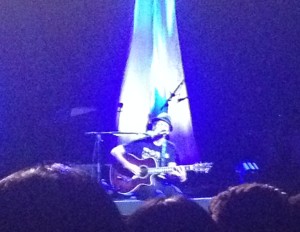 The Artists Den hooked up Give Me Mora with tickets to see Jason Mraz live at UCLA's Royce Hall last night. While Sali and I might not have loved being at UCLA (Go Trojans!), we loved seeing Jason accompanied by Raining Jane performing non-stop for an hour and a half. 
The show was incredible and was so intimate that it felt as though we were sitting with a group of friends, enjoying good music and good company. Perhaps the greatest moment of the show was when Jason brought up a fan who had flown from Boston up to the stage with him. He sat her down next to him and together, they sang along, sharing sweet moments and giving her a night she would never forget. It's this type of realness and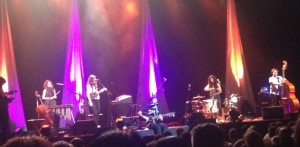 humanity Jason possesses that makes him instantly lovable.
While he did not many more than a few radio hits, it was still a wonderful show. I was praying for "Life Is Wonderful" and Sali was begging for "Remedy", but neither made an appearance. Besides that (and the psychopath sitting next to us — I kid you not, she was a certified psycho), it was a perfect night. Jason was funny, kind and humble. His "band" Raining Jane, was phenomenal and unlike anything I've ever seen before. 
Again, a special thank you to The Artists Den for inviting me and Sali to the private show! We can't wait to see the special air on PBS.
xo NM