I grew up watching Brittany Murphy — I looked up to her comedic timing, her bubbly personality, and the fact that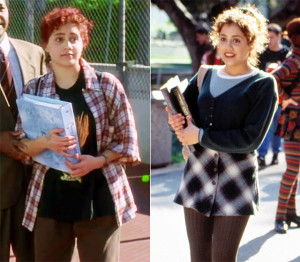 she was just always herself. She was a Hollywood starlet that was taken from us too soon and we may never really know why. 
I just saw The Brittany Murphy Story, which profiles the icon's rise and fall in Hollywood. Now I know Lifetime isn't known for creating Academy Award winning content or authorized content for that matter, but they have been able to produce some decent shit once in a while. And this my friends, was nowhere near decent.
The acting for the most part was horrible. The story line had major details left out such as the fact that she had been engaged more than once. The actors didn't even look or act like who they were supposed to be portraying. I mean the whole thing was one big fail. Don't even get me started on the guy they chose to play Ashton Kutcher. What was he?
When you create a film about someone's life, you need to make sure everything is accurate and details all the juicy stuff. The Brittany Murphy Story did not do that. It didn't even hold my attention. I was waiting for something to happen,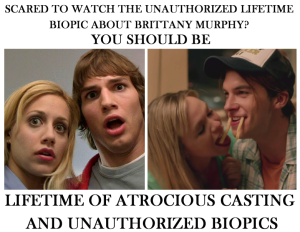 anything to happen, that would be better than what I was watching on my screen.
They could have showed her working with her costars, her day-to-day life, introduced us to her estranged relationship with her father, and so much other shit that I can't even think of off the top of my head because I'm so disappointed. I never even have high expectations when it comes to watching a Lifetime film, but like, what in the bloody hell was this? Did they make it for 2 dollars?
Whatever, I'm over it. Don't even understand why it took someone 5 years to make this less than mediocre "movie."
This Rolling Stone article explains the 10 Most Hot-Mess moments in TBMS. Must-read. 
xo[typography font="Cantarell" size="14″ size_format="px" color="#ff6666″] NM[/typography]