It's pretty obvious I have ZERO chill so when Dani Renee asked me to enter her #NoChillZone, it seemed like a perfect fit.
I met Dani at the Vanessa Simmons event in December and it was awesome to link up with her for an interview. I'm still not used to being the interviewee, but Dani made it quite easy, smooth, and most of all, it was a blast. 
We met up in Manhattan Beach, which is about 20-30 minutes south of Santa Monica. You might remember my post about Love & Salt – headed back to the same area! Dani had never been there before as she is from the Bay Area, so it was only appropriate I showed her around LA's South Bay. Too bad it started to rain on us. 
I loved that Dani asked me to come in my normal #streetstyle so she could profile the real me on a regular day. Obviously I came in my favorite Top Shop jeans, a tight blue Zara crop top, and my favorite Adidas sneakers. We talked about everything from discovering my passion for blogging & hosting, to my every day fashion, and to learning how to open up about my life. The #NoChillZone is new to the blogging world but I love that Dani is focusing on women empowerment and staying true to who you are. Something, as you know, I'm very passionate about.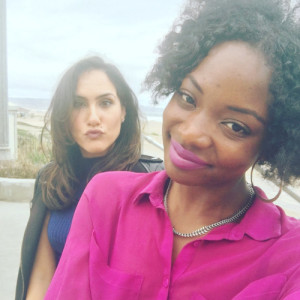 If you follow me on SnapChat (username: NicMora), you saw that she hacked my phone and straight up put me in the #NoChillZone by asking me about the worst date I've ever been on (the guy showed up high), if I prefer body wash or bar soap (body wash, duh!), and if I have jungle fever (maybe just a little?). 
CLICK HERE FOR THE FULL INTERVIEW!
There's a part 2 coming all about fashion so be sure to stay tuned for that. 
What makes YOU have no chill? Comment below!