Hey GMM readers!
Hope you are enjoying the holidays and hopefully some time off!
In the spirit of the festive season

here is how I cook my delicious Turkey!

I love making this not just during the holidays, but all year long because it's healthy and can last for days.
There are so many different ways to cook a turkey, but this way is my fave! 
Firstly, the turkey size is important…
My Turkey weighs 6kg, which means it will take 2.5 hours to cook
Secondly, getting the oven temperature is key…
Pre-heat oven to 200 degrees celsius (or gas mark 6)
After 30 mins turn oven down to 180 degrees celsius (gas mark 4)
Ingredients:
Turkey (a 6kg turkey will feed approx. 14 people)
4-6 whole onions (depending on tray size and how much room you have)
Margarine (you can use butter)
Sea Salt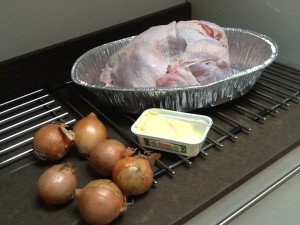 Instructions:
Step 1:
Rub margarine into the breast of the turkey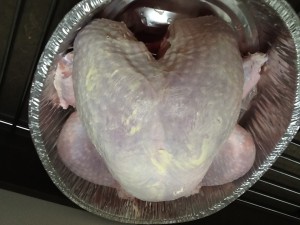 Step 2:
Cut up onions and place in the tray with the Turkey

Grind some salt over the turkey and onions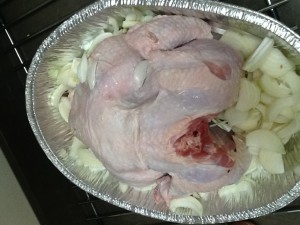 Step 3:
Place Turkey on its breast
Step 4:
Cook the bird on its breast for 2 hours

For the last 30 minutes turn the bird over
 *remember to baste the turkey as it is cooking – this means you should keep taking the juice from the tray with a spoon and spreading it over the turkey 
Step 5:
When the bird is golden, remove from the oven and cover loosely with tin foil. Leave for one hour before carving.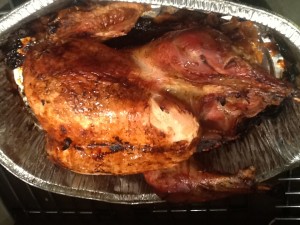 Step 6:
Carve and serve

You can use the juice from the turkey to make extra gravy!
Whilst the turkey is cooking you have time to prepare the parsnips!
For this you will need parsnips (of course!), honey and olive oil.
Step 1:
Step 2:
Drizzle the honey and oil over the parsnips so they are covered in flavour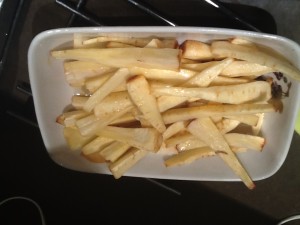 Step 3:
Put the dish in the oven

Keep an eye on them as the time it takes to cook them can vary
I would suggest you should let them cook in a pre-heated oven at 180 degrees celsius for approx. 30-35 mins
*these can go in the oven once the turkey is cooked as you will want them to be hot when serving
OH and for the brussels sprouts lovers following GMM (I myself am a converted brussels sprouts lover), h
ow about some roasted sprouts with almonds?! 
Yummy!
Ingredients:
x 1 bag of brussel sprouts (if you have more than 5 sprout lovers in the house use more than one bag)

x 1 bag of flaked almonds

Olive Oil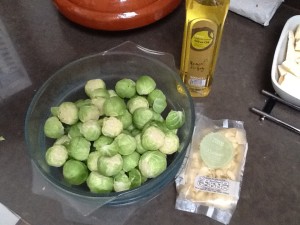 Instructions:
Chop off the top of the sprouts
Pre-boil the sprouts in the microwave with a splash of cold water – this is to soften them

This should take approx. 5 mins (it will depend how many sprouts you have in the dish)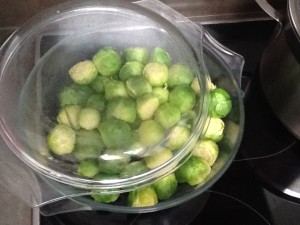 Step 3:
In the same dish mix in the almond flakes

Drizzle olive oil over the sprouts and almonds; mix them around and ensure all is covered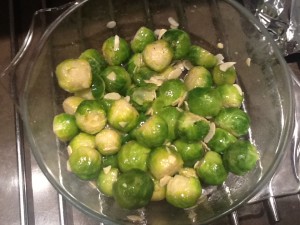 Step 4:
Put into pre heated oven (temp. 180 degrees celsius)

Cook for approx. 20 mins. 

Before serving mix the sprouts in the dish to spread out any oil that has settled