I'm off to Vegas for my cousin's wedding this weekend and I could not be more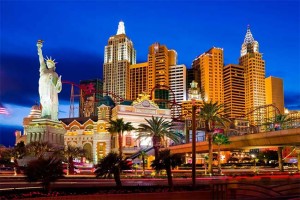 excited! However, by the end of the summer I'm going to feel like Las Vegas is my home away from home.
If you're thinking about heading to the city of sin, here are my top choices of where you should stay & eat!
Hotels:
– Encore
– Cosmopolitan
I personally never stay anywhere other than the Encore because it's so convenient and easy, but the Cosmo is very nice and foreigners seem to love it.
[typography font="Cantarell" size="16″ size_format="px" color="#ff6666″]Bougie-On-A-Budget[/typography] tip if you want to stay at the Wynn or Encore: become a red card member! If you like to gamble, I highly suggest you get one. Regardless, once you become a red card holder, you have access to special promos and discounted upgrades. Thanks to being a member, I got a special upgrade for only $50 instead of over $100! Plus my room rates were almost half the price. $129 (before upgrade) per night, not including tax or resort fee. Can't beat that.
Food:
– SW Steakhouse
– Wazuzu
– Allegro
These are my personal faves because they're easy to get to when I'm staying at the Encore. I like SW because it's a glam sit down dinner and I like Wazuzu because it's quick, delicious, and affordable. My 4AM must-have is Allegro for their truffle pizza! I might be the only person on the planet who does not like pizza, but I will eat this anytime. And guess what? It's only $20 for the entire pizza.
For anyone else who pops into Vegas often, feel free to chime in on your faves!
xo[typography font="Cantarell" size="16″ size_format="px" color="#ff6666″] NM[/typography]