Guys! I just got back from my very first Wendy Walk and it was amazing!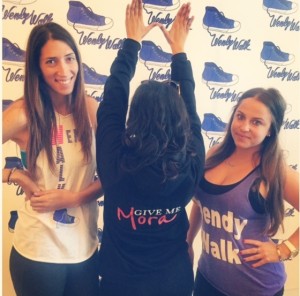 At around 10am today, hundreds gathered at Casa Del Mar in Santa Monica in support of the Wendy Walk. People from all walks of life came together to help fund cancer research, specifically for sarcoma. Once you walk down the stairs and enter the ballroom at Casa Del Mar, you are greeted by different volunteers ready to check you in and give you an t-shirt. To my right was the silent auction with prizes ranging from CrossFit memberships to a private party by Cocktail Academy. On my left was a special section where you could buy different Wendy Walk gear like IDFW Sarcoma tanks, water bottles and sunglasses. 
There was tons of water, coffee and tea for us to sip on in between taking fun photos against the step-and-repeat and listening to the amazing speakers. The speakers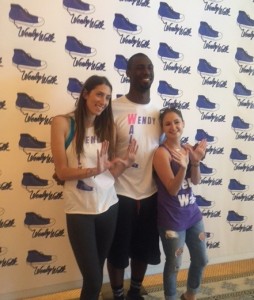 shared their own personal stories about dealing with sarcoma which was both moving and inspiring. I, like most of the crowd, was left speechless and just in plain awe.
After the speeches and beautiful video, we set sail on our walk. As we walked over to the Santa Monica Pier, I took a minute to be present and realize the magnitude of what we all came to do: raise awareness and funds for sarcoma research. [highlight]Wendy Walk was started by 3 children who wanted to see their mom win her battle against cancer, and 6 years later, it's become so much more than that. [/highlight]
To date, Wendy Walk has raised over a million dollars. And this is just the beginning. 
I'm honored to be associated with such an amazing cause. A special shout out to my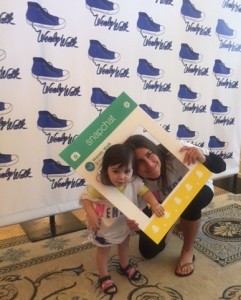 three awesome #WomenOnTheRise: Ali Landes, Jackie Landes & Melissa Purner. Ali & Jackie, you two are pillars of strength and I'm just in awe of seeing your hard work come to life – it was a very surreal experience for me. Melissa, I would never want to be on any team besides On The MAP Entertainment and seeing how much dedication you have to making a difference in this world is truly inspiring.
If you'd like to make a donation, please visit WendyWalk.org
All my love,
[typography font="Cantarell" size="15″ size_format="px" color="#ff6666″]NM[/typography]