Raw or cooked? Which do you prefer?
When recently baking some snack bars recommended by Women's Health Magazine, I was faced with the raw / cooked dilemma, so I tried both! Personally, I much prefer the cooked bars, but know that there are plenty of raw fans out there.
After testing a few of the suggested snack bar recipes I have picked a couple to share with you.
First is the RAW 'Let's Make a Date Bar':
10 Medjool Pitted Dates, 200g Chia Seeds, 1 tbsp Raw Cacao Powder, 2 tsp Cacao Nibs, 4 tbsp Coconut oil:
– Pulse dates to form a paste (if the dates are hard boil them first to soften)
– Mix the paste with the chia seeds, cacao, nibs, and oil
– Press into a baking tray and cut into squares
– You can eat this immediately or freeze for approx. 1 hour to get a more chewy texture
The bar tastes fresh, and I know the benefits are there for you, but it was a bit too raw for me.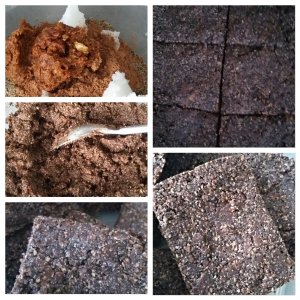 Second is the COOKED 'Hearty Breakfast Bar':
140g Rolled Oats, 50g Sunflower Seeds, 100g Pumpkin Seeds, 30g Almonds, 30g Walnuts, 50g Dried Cherries, 3 Ripe Bananas, 1 tbsp Vanilla Extract, ½ tsp Salt, ½ tsp Cinnamon:
– Pre heat oven to 180 degrees Celsius and grease a baking tray
– Mix oats, seeds, nuts, and dried fruit in a bowl
– Blend bananas, vanilla, salt, and cinnamon until smooth
– Add this to the oat mixture, mix well, and pour into the baking tray
– Bake for 30 minutes, then leave to cool and slice
This bar was MUCH yummier; the sweetness wasn't overpowering, and I felt a lot more satisfied eating it.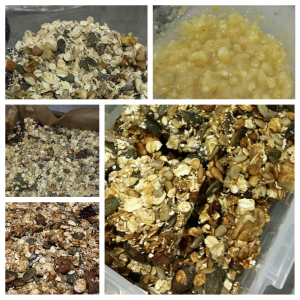 If you are unsure as to whether you prefer raw or cooked I would suggest trying both out…perhaps halve the ingredients so as not to waste too much!
As a side note, I bought a new Ninja blender this weekend decided to try the Honestly Healthy Sticky Seed Flapjack recipe. This recipe WINS hands down! It is a pleasure to eat, and nothing but good for you; plenty of Vitamin E, and natural sugars. The HH recipe is easy to follow and quick to make. I'd encourage everyone to go and purchase the Honestly Healthy recipe book where you can find the recipe to make these and many more clean, tasty recipes!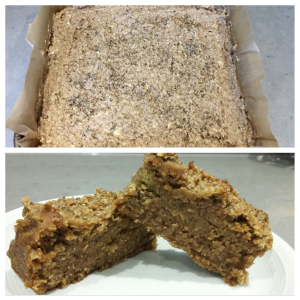 Elyse XO