The season is FINALLY coming to a close and I could not be more over it by this point. I mean, what a snoozefest this season was. Am I right? Or maybe it's just because I think Nick V reminds me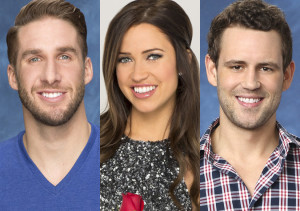 of a serial killer/the sociopath I once did a film with. Not sure.
Whether you liked her this season or not, Kaitlyn was a great Bachelorette. She was real and stayed true to her heart (and hormones). I have to applaud her for not only having to deal with the guys choosing between her and Britt, but also with all of the scrutiny she's come under in the past 2-3 months. It really wasn't her fault that ABC cut down on costs and kept this season so simple, but I do have to say that Kaitlyn has had the best group of guys out of all the other seasons of The Bachelorette.
It's officially down to two guys: Shawn B and Nick V. 
While Nick may have came in and swept Kaitlyn off her feet, she's going to go with Shawn. Kaitlyn's relationship with Shawn has been electric since the moment he stepped out of the limo and their connection has been undeniable. It also doesn't help that our lovely genius bachelorette put up a Snapchat picture of her and Shawn just a month ago so…it's pretty much confirmed that she's with fan-favorite Shawn. 
Do I think Nick is going to go down without a fight? Absolutely not. He is going to make himself look like even more of an idiot than he did during Andi's season. Let's be honest Nick, if in two seasons you haven't been able to make more than 6-7 guys out of the 50 contestants your friend, you are clearly the problem. Can someone please explain to me what the appeal with him except for the fact that he's a con-artist?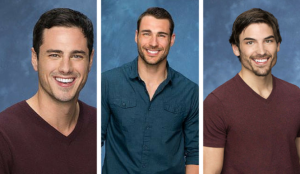 On to more important things! THE NEXT BACHELOR. Hands down, it's going to Ben H. [highlight]Rumors have been swirling over Ben H being the next Bachelor and I am 99% sure they are true. [/highlight]Runner up will be Ben Z. Ultimately, ABC will go with Ben H because he is attainable and will appeal to more of the masses. It would be a solid move for the network, because we all know Ben H will follow his heart, just as Sean Lowe did, and be the next poster child for the franchise. Don't know why anyone thinks Jared is even in the running – he's already set for Bachelor in Paradise. 
Your turn! Are you #TeamNick or #TeamShawn? Who do you think will be the next Bachelor?
xo [typography font="Cantarell" size="16″ size_format="px" color="#ff6666″]NM[/typography]